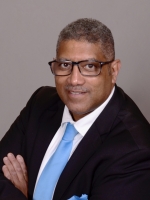 Elder Charles Cantrell is a third generation Apostolic and has served in his church under the pastorate of his grandmother, Pastor Margaret S. Couts, in many capacities during his life. From usher, drummer, choir member & director, Sunday school teacher, organist, superintendent of Sunday school, to assistant pastor. Now, he serves as the pastor and shepherd of Bethel Apostolic Temple in Springfield, Tennessee.
As a graduate of Vanderbilt University with a dual degree in Engineering and Mathematics, Elder Cantrell has been blessed by the Lord to have worked for corporations such as E.I. Du Pont, M&M Mars, Nissan, and now a retiree with approximately 25 years of service from General Motors. After retiring from GM due to plant closure, he utilized his math degree to teach two years of high school Algebra & Geometry. Afterwards, he would be drawn back to manufacturing and has now worked for Martinrea Automotive for the last few years.
Elder Cantrell is the father of two children, Charles II (also, an engineer) and Cassidy Renay (a doctoral candidate at Indiana University).
God has truly blessed. Nonetheless, the real blessing is to be saved and counted worthy to feed the lambs and sheep of GOD and to be a servant watching over and caring for His flock…His church.